In the era where off-site working and digital transformation are becoming a norm, so is software development outsourcing. However, there are many misconceptions concerning the process. In this article, I'll try to clarify some of the myths popular on the internet and explain why outsourcing your project to a software development company is a way to gain a competitive advantage in your industry.
When to outsource software development? When is it right for your business? How to choose a software development outsourcing company? How much does software outsourcing cost? What's the difference between in-house vs outsourcing software development? Let's find out.
What's software development outsourcing?
First of all, I'd like to shed some light on a few things. As there are three main models of outsourcing, it's easy to get confused by the different terms and misunderstand the whole concept.
Model 1: Staff Augmentation is about borrowing a team of specialists to perform a particular task. The process is happening in your company. You're responsible for everything that's going on in the software project. 
Model 2: Dedicated Team is a model in which your in-house team and the outsourcing team share responsibility for project deliverables.
Model 3: Project-Based is a collaboration where the software development company takes care of the whole process according to your requirements. 
The definition of software outsourcing
In this case, by outsourcing software development, I mean cooperating with an external company that provides software outsourcing services to design, develop, test and deliver a digital product. That's the third model.
Software development outsourcing is common, especially among organisations that don't have in-house teams that provide this kind of service. The others choose outsourcing because of reduced costs, saved time, and a team focused solely on the task.
Criteria for choosing a software house
If you're not an expert in your industry, it's not the best idea to look for a body leasing company. What's the use of a developer who can't build you a full product? To do that, you need a dedicated team.
How to choose the best software development company for your project? What are the tips for picking the right one? Below you can find factors you should pay attention to.
Look for an experienced software development outsourcing company 
Well, for starters, the first thing that you think about is to look for a company that has experience in building digital products. And it's not only about how long they've been doing it but also about practical knowledge. Has this company worked on similar software development projects or has experience in your industry?
Evaluate their work and see if they meet your software development needs. Let's not forget that the digital product consists of many factors. It's more than just software. It's design, market demand and many more. When you find the right company, the specialists will be able to deliver you a beautifully designed product that is intuitive and well-secured.
Don't get attracted by the cheapest options
I know development costs are no joke. But when you want to do something right, don't get lured by the most comfortable prospect, especially when it comes to your software development project. You pay for the quality.
If you expect a well-designed product that will meet customers needs, the price is a relevant factor. That's why it's worth investing a little more and get a product that will sell well on the market. A software development company can make that happen thanks to detailed research, software testing and usability tests. 
Great culture means communication and transparency
Do detailed research and pick the company that best suits your needs. Choose an organisation that values open communication with employees and clients – the one in which the project management process aligns with your values and business needs.
In this way, you ensure transparency in each step of the process. Thanks to constant contact with the project manager, you'll always know what's happening with your digital product and what you're paying for.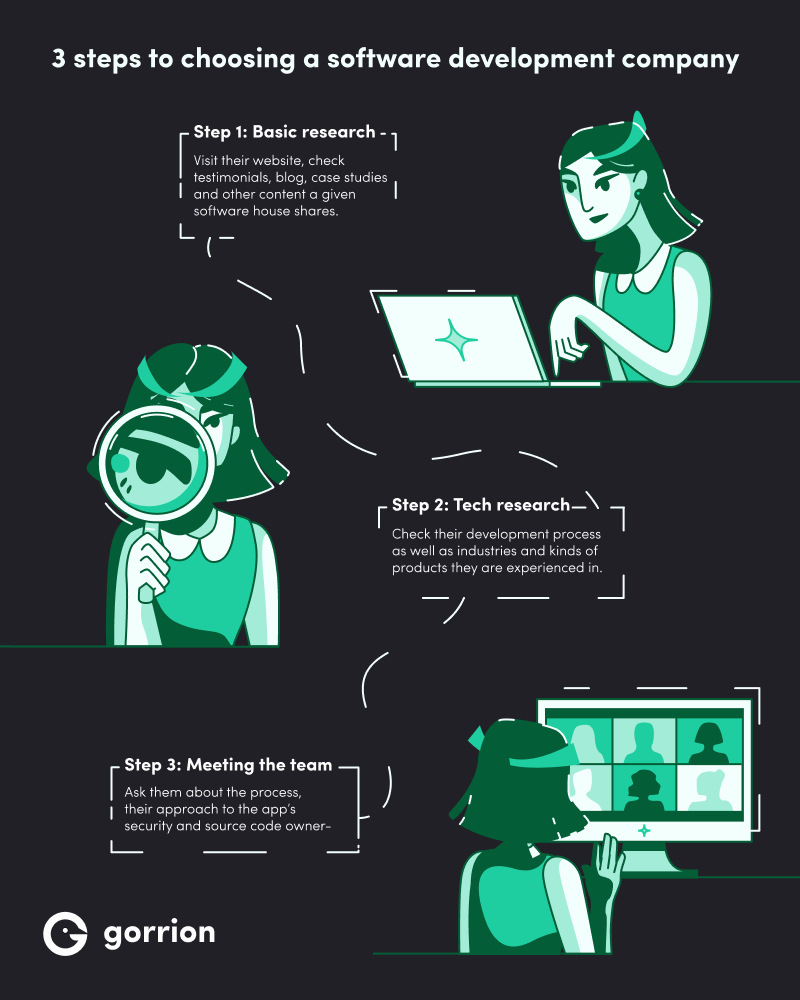 What are the main questions to ask?
You already know the criteria for choosing a software development company. Now let's move on to the questions – the checkpoints before selecting your software development partner. Here's a list of the most important questions you should ask.
1. What does the process look like in your company?
Let them tell you step-by-step how the process looks like. Also, ask about their software development methodology. Is it flexible, and does it Let them tell you step-by-step how the software development process looks like. Also, ask about their software development methodology. Is it flexible, and does it satisfy your expectations? What are the project management tools that they use? your expectations? 
At Gorrion, we use Agile methodology – it allows us to be flexible, focus on core value and do the entire development cycle step-by-step. But more about it in the article How we work: management culture, Scrum and the client's role.
2. How do you communicate during project development?
Do they make a video call once a week? Or perhaps they give daily feedback on Slack. Ask them about it and suggest your preferred way of doing it. Adjust this so that it fits both you and the experts. After all, it's about building active cooperation that's based on communication and trust. 
3. What's my role in the project?
This question depends on your preferences. How often do you want to communicate with the team, and how involved do you want to be. Maybe you just want to know what's going on in the project, or perhaps you like to be treated individually. It's up to you.
4. Have you worked on similar projects before?
That's the crucial one. Pick a company that has experience with similar projects. In that way, this experience won't be overwhelming for them, and you'll have peace of mind. These guys know what they're doing. 
5. What do you specialise in?
As I stated before, developing a product is a complex process. It's about technologies, business analysis and many more. Ask about technologies they specialise in. Let them show you some of the previous projects. Do you like the design? Is it intuitive?
6. What if I don't like the final product/service?
This situation shouldn't take place as, during the process, you're part of the team. There's a close collaboration between you and your This situation shouldn't take place as, during the process, you're part of the team. There's a close collaboration between you and your outsourcing partner. That means you make all the decisions together with the team.
What's more, because of regular communication, you get regular feedback. It should prevent the situation that you don't like the final product. Nevertheless, there's no harm in asking.  partner. That means you make all the decisions together with the team. What's more, because of regular communication, you get regular feedback. It should prevent the situation that you don't like the final product. Nevertheless, there's no harm in asking. 
Pros & Cons 
Now, I'm going to write about the advantages of software development outsourcing. You're going to see what you can gain from the process and its impact on your overall business. Next, I'll give you a few examples of when software development outsourcing is not for you. As sometimes, there are other processes for you to discover.
Five reasons for software development outsourcing
Maximised efficiency
A software development company will provide you with people who will be focused on your project success. As a result, you can turn your attention to the core of your business and let specialists do their magic. Thanks to constant communication with the team, you'll be provided with feedback on a project while running your day-to-day business.
The right company that provides software development outsourcing services will also care about the business growth.
Tailor-made product
A digital product it's not just about the development part. It's also about the design, functionality, and meeting the target customer's needs. The right team will provide you with a tailor-made solution and, thanks to the market research, will help you grow your business.
Reduced costs & saved time
For a company, minimising costs is one of the most reliable ways of stimulating business growth. Because of software outsourcing, you don't have to hire new employees or additionally train those you already have to develop your product. Instead, you can hire an external team of specialists that will focus only on the project and provide you with needed solutions. In that way, you only pay for the time they spend working on a digital product. In other words, you minimise expenses.
Knowledge sharing
When working on a project, a software development company with a good culture is all about open communication. You're a part of the project as we educate you on how the process looks like, what are the costs and stages. In this way, you can contribute to creating a product that will help you achieve your goals.
Team of experts
When cooperating with specialists that have a designed way of working, they'll advise you on technology and different features. If they've done 200 projects, yours will be no different for them. The right team will make sure that you'll get the product that will be intuitive and support your business.
Is it for you?
You may think, "What kind of question is that? You just gave me a bunch of reasons to do it!" However, as it's with all the processes, sometimes the one that you want isn't good for you. And that's ok.
1. You want to do it as cheap as possible
As I said before, if the final product is the one that's going to help you achieve your goals, sometimes you have to invest in it.
2. You know it all and don't appreciate feedback
As you come up with an idea, you already see what the final product will be like. Namely, you know what you want. Technologies, designs, features, and you don't want to listen to our advice. What's worse, according to you, there's no point in doing business analysis or market analysis. In other words, you don't want cooperation. Unfortunately, that's the reason why outsourcing isn't for you.
3. You don't want to be involved
In other words, you just want the job done. To be satisfied with the final product, you have to put your heart in it. You have to remember that when collaborating, communication and understanding the project scope are the key to success. There's no way around it.
Let's talk about costs
A budget is undoubtedly one of the main things you look at when looking for software development companies. Luckily, the variety of offers makes it easier to find the one that fulfils your needs and isn't too pricey.
Thus, when it comes to the cost itself, it's hard to predict it. Each project is different and requires an individual approach. In other words, because of customised software development, there's no one price.
What does it depend on? There are several factors that you have to take into consideration before making the evaluation. Among these there are features, product complexity, amount of data etc. All of these factors have a direct impact on a final product, thus on an estimate.
Get to know what affects the cost of software development from the article by Mariusz Binkowski.
Let's talk about MVP
What if you want to build an MVP? Is it a good idea? The answer is yes! When developing MVP, the company will identify the best solutions and ways to meet users needs. You'll get to know how to implement your idea and which technology is the best to do that. All of it to make the MVP scalable and effective. Let's not forget that although MVP is a basic version of the app, it still requires research and a structured process to be built.
Want to develop MVP? See how you can test your idea with us.
What about software development outsourcing for startups?
We've already covered MVP. Now it's time to dig a little more and answer other questions. Are there companies that provide software development for startups? Absolutely! And the choice is endless. Pick the one that best suits your needs and has a positive company culture.
What's more, there are review and rating websites that can help you with that. One of the most popular is Clutch.co. Check it out and find the one just for you.
Our process
We've been handling a lot of software development outsourcing projects. We had healthcare, elearning, energy related ones and many more. If you want to see what our clients say about us, check our Clutch profile.
New projects and cooperations with clients let us continually improve our process. After interviews that help us to get to know your business, a workshop, detailed market research and doing PoC, we'll provide you with the best adaptation of solutions. We treat our clients individually and educate them about each step of the process. Thanks to that, you don't have to worry about not knowing what's going on in your project. You're a part of the team too.
Whether your project will be the core of your business or it's an additional one to support it, we're here to help you. Book a meeting, and let's develop your idea together.
Editor's note: We've originally published this post in August 2020 and updated it for comprehensiveness.