Designing a digital product is a complicated process that requires a lot of time and attention. There's a team of specialists, a client with an idea, business' goal, market demand and many more. Thus, the better we use the time for research and understanding the concept in the primary stages of the project, the better will be the finished application or website. How to do it? This is when a product discovery workshop (or project workshop as we like to call it) steps in.
How to run a product discovery workshop? How can it help us to pay attention to the core strategy for the entire process of product development? Is there a template for it? Let's see.
A quick definition of a product discovery workshop
A product discovery workshop is a meeting (or series of meetings) that helps better understand the client's idea. It's the critical part of the entire process. Without the discovery workshop space, we don't know the project's scale, problems we're facing and, more importantly, its target users and their needs. And thanks to it, the developers and designers can get to know the client and vice versa. That's why a workshop is very often part of the discovery phase in the app development lifecycle.
All in all, product discovery workshops are the beginnings of the cooperation that set the ground for the consecutive stages of the entire project – core functionalities, user personas, user story map, potential challenges – these are all parts of this initial phase. Because so much is established there, the product discovery workshop also builds trust between the project team, the client and key stakeholders.
How to plan a project workshop
You can ask, is there a one-size-fits-all plan for a successful discovery workshop? The answer is no. There's not. Or at least, it shouldn't be. Every client needs to be treated individually as each project is different and unique. Of course, there can be a template for a successful workshop, but we shouldn't blindly follow it. The right software house with good company culture keeps an open mind and adjusts this product discovery process to the project and the client's needs.
Also, as there's no one ultimate workshop, no defined number of workshops – it all depends on the scale of the project and predicted problems or opportunities.
Learn more about the company culture and how it influences team's performance.
Product discovery workshops – the benefits
Why running a project workshop? Let me tell you a little bit about the benefits – how it sets the ground for the entire project development process and helps to deliver a digital product successfully. I think you'll see it yourself that it's worth investing in this process.
Defined scope of work
During our discovery workshops, we talk with the client about the product, discuss functionalities and decide which are more or less relevant. Together we also determine goals that need to be achieved – here, we're thinking not only in terms of technical aspects but also business goals. It gives us a defined project scope, which helps us establish the priorities, accomplish set milestones, and bring business value. Plus, there's a shared understanding in the group – everyone is on the same page. Thanks to this common ground, the project is more likely to be completed in a given deadline. 
A better understanding of the needs of both client and end-user 
Sometimes clients come to us with a well thought-out project, while other times, they have an idea of the final product. One way or another, during workshops, we revise previous assumptions together by carrying out user research and checking market demand.
Do these assumptions correspond to user needs? What are the signs of the product's demand on the market? What do the target audience desire? Thanks to defining user personas, writing user stories, user journey mapping, and other creative methods, we have fresh perspective on that matter and can establish customer pin points. Hence we can adjust the digital product to its target audience. 
In short, we check these important aspects so that we can transform the product vision into an actual product.
Learn more about the process of market validation from How to validate your digital product idea?
Comprehensive analysis 
In the course of workshops, we perform technical, business and creative analysis. We're thinking about new interesting ideas for solutions and core functionalities. What's more, we do market research and competition analysis by checking similar apps and competitive companies. All of this is to make sure that the product will meet the target user's needs.
Cost-effectiveness
Discovery workshops are great also in terms of money-saving matters. Yes, custom software development may be expensive. But thanks to workshops, the project team get to understand the business and idea better and adjust services to the project's budget.
From the very beginning, we aim to develop an app or website with features for which the client won't pay too much money. By scanning functionalities that aren't crucial in the application, we reduce the final cost and make the offer more budget-friendly.
One of such solutions that helps you avoid unnecessary development costs is an MVP (minimum viable product) – a solution that combines simplicity and quality. Here, there's no place for complex products or additional features. MVP is all about user experience. Plus, it's a great way to check the market demand – most of the well-known businesses started from it during their startup phase.
Learn about other ways to cut the software development cost but preserve the product's quality.
All information is sorted out
It's equally essential for everyone involved. During the project workshop, you get to create a detailed production plan (a precise roadmap) that allows you to sort all information out, including project timeline, functional specifications, core features, user tasks that are properly scoped and defined and many more.
Since there's an order of information and it's all in the same place, we can easily find what we were looking for. All the participants can come back to it at any time during the production phase – even those who join the project later.
A reveal of missing opportunities, strengths and weaknesses
A product discovery workshop is a great way to overcome potential challenges and get fresh perspectives. All the methods that we use during the workshop aim to prevent previous errors. User personas, Priority Matrix, SWOT analysis – thanks to them, we find missing points and plan research to resolve them. For example, sometimes, primarily plan turns out to be costly, so we identify the problem and find an alternative.
From 8 creative methods that will turn your idea into a product, you can get to know more about user journey map, card sorting and other techniques that will help you deliver a successful product.
A core of a project
It's the breaking point for all the participants. Thanks to discovery workshops, the client with a team can get to the project's foundation and verify whether the initial assumptions are valid and worth pursuing. It helps them focus on the product's goal and ensures that everything they do is as intended.
Additional value -> getting to know the people you collaborate with
In other words, teamwork. Throughout workshops, the client works on the project together with the team. There's open communication and transparency in the group, which translates to common understanding of the digital product's idea. It also builds trust and better relations. This, in turn, makes cooperation a lot easier and sets the foundation for long-term collaboration.
Project workshop in the entire product development process
Let's start from the beginning. Our product discovery workshops are designed specifically for a particular client. But before the first workshop starts, there's a talk with our new business manager about the client's idea. Once you established that you, as a client, want to conduct product discovery workshops, we organize an intro call during which we most likely give you a Brief (also called Product Map) to fill in, and you meet other people from the team. 
What's a Brief? It's an interactive document containing all the necessary questions about the scheme, your business needs, goals and expectations.
The preparation stage
Based on an intro call and a Brief, we can determine your business goal. We know the basics, and we're drawing up some further questions and matters to go through. It also allows us to do initial mapping of the fundamental need and the scope of the project. Moreover, we prepare our product discovery workshop so that the finished product fits that core need. However, bear in mind that it also varies depending on the client's budget.
What do you get from the process? During the workshop, our team prepares wireframes, user stories, a roadmap and an estimate. Next, there's a creative workshop to create the final flow.
Therefore, after the initial workshop, you are provided with a Product Book which is a document containing information about the project with the proposed approach and offer. Later on, you get the analysis, reports on progress, etc.
What's included in the Product Book?
Project Story – it's one of the critical outputs of the workshop. It's based on four vital questions that we have to answer:
– What are we building? 
– Why are we doing it? 
– Who's the target group?
– How are we going to achieve the goal?
These questions during the discovery workshop provide us with a foundation on which we can start building the digital product. Moreover, we can continually get back to them to ensure that the solutions we created are satisfactory and match our goal.
User Stories – it's mainly about the purpose of the application.

An image of your potential customer – it's defined as a "user persona". During the discovery workshop, the project team and the client try to answer questions such as "Who would want to use the app?" or "What's the biggest challenge they face and what can we do to help them?".

Flowchart – presents how the process works. For example, it can show how the navigation works or how users can move around the application.

Technical issues – describes issues related to used technology.

Information about team members – it's a full presentation of the team and their skills.

Assessment of a project – it's an estimated application prototype cost.
Newsletter
Get more insights into the software development process from our newsletter. Sign up now and treat yourself with some Gorrion's dose of knowledge.
Research fields 
As I mentioned before, during the discovery workshops, we perform technical, business and creative research. In the process, we want to gather as much data as we possibly can. This will come in handy during the planning phase as well as the development phase.
The initial research provide us with the data, thanks to which we can validate the idea. Thus, we don't limit ourselves to general questions – the more detailed the questions about the project, the better. It applies to all the research areas as we want to understand every aspect of the product.
Business & technical
For example, in the business field, we vary from subjects such as "Who is our target market?" to "How our competitors are doing" or "What are the key features the market is searching for?". 

In the technical part, among other issues, we try to determine what devices the users are using (which browser, etc.). At the same time, in the creative one, we focus on the intuitiveness and functionality of the app that depends on the target market.
After the research, we're aware of potential risks and problems that arise from the idea from the business and target users perspective. Apart from that, we also know the core value of the app or website, which helps us in defining the chances of success.
For instance: "What can help in the positive reception of the application?" By validating the product idea through tests and PoC, we ensure that Product/Market Fit will be easier to achieve. This, in turn, will contribute to the overall success of the client's established company.
How to deal with project risk management in software development? Find out here.
The process for special tasks
It may happen that, as a part of the workshop, we suggest the Design Sprint (it's optional). Especially when the idea is innovative, and we want to see whether it'll meet users needs. 
Design Sprint is a time-constrained and highly creative way of validating the concept. It aims to reduce the risk of bringing a new solution to the market. Whether it's a feature, service or product, it helps us set the goals and check if the initial assumptions are accurate. It also allows us to check and do as much as possible in the shortest amount of time.
Below you can find a template of exemplary Design Sprint that we've prepared for one of our clients.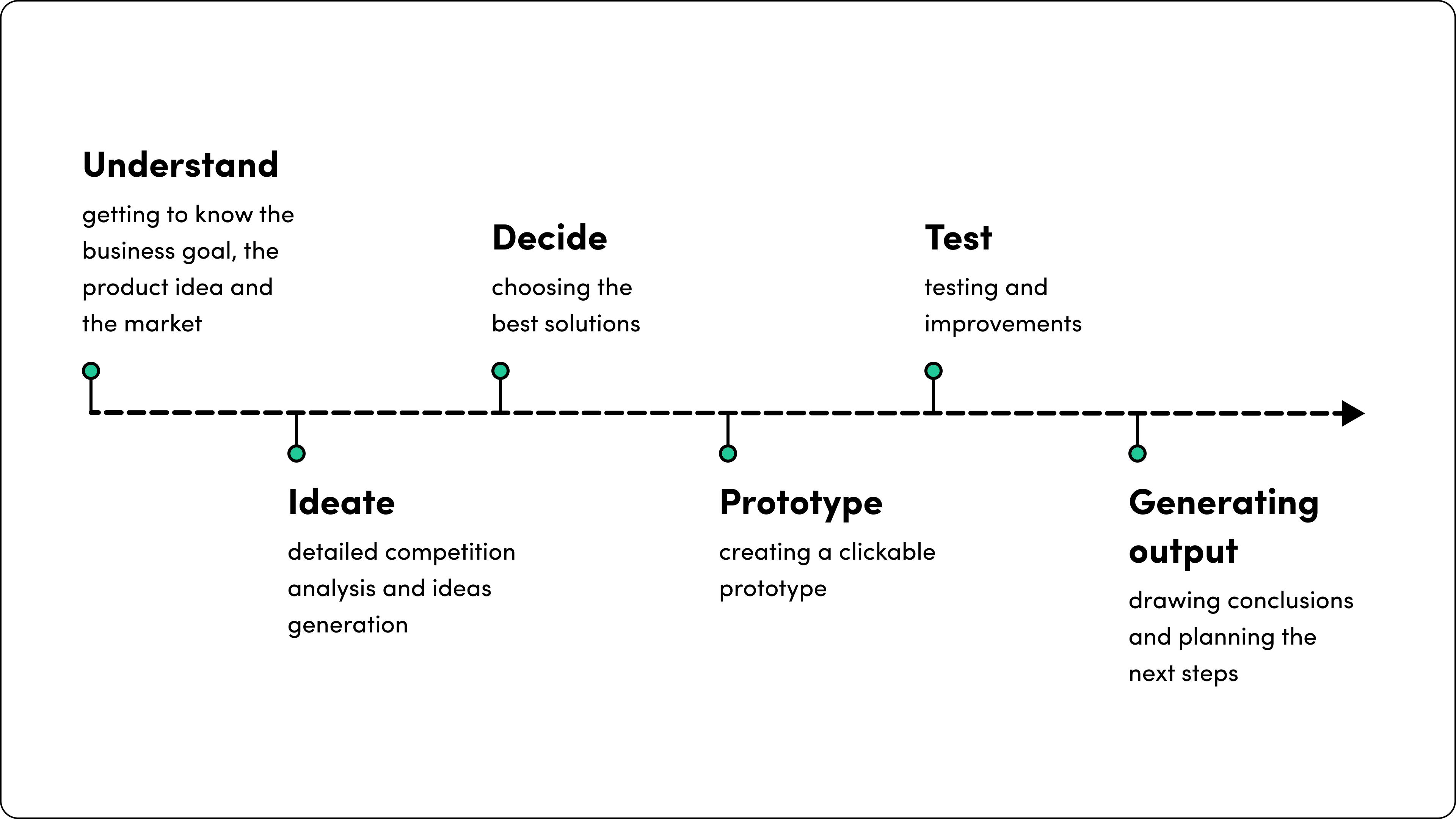 As you can see, even during the Design Sprint, our team wants to be in consistent contact with you as our partner. All of that to make sure that the solutions correspond with your requirements.
Custom software development – project management
Our development team uses Scrum, which is part of Agile project management. It allows us to share and discuss the finished versions of the product regularly. One of the many great things about Scrum is that it works well with almost any project. It involves open and regular communication within the team and with the client.
When it comes to software development, this approach is very flexible – we can modify it many times. The same goes for the budget. Thanks to this approach, the whole team feels responsible for the project. Moreover, the client has full and constant insight into the process of software development.
Tips for running a remote workshop
Although we prefer interacting with our partners by meeting with them in the office, we adapt to other circumstances. In other words, if there's a need, the location doesn't matter – we can switch to remote workshops. And we're pretty good at it. Here are the tools that we use to make it work.
Mentimeter – we use it during workshops for interactive presentations.
Whimsical & Miro – tools for all of us to create flows and new ideas, analyze stakeholders and vote on solutions.
Slack – for the whole team and the client to discuss things daily. It's a place to chat, address questions, share plans and put forward ideas.
Slack calls and Google Meet – for discussing Sprint progress and priorities for the next week.
ClickUp – thanks to this tool, we can plan and self-organize our work.
Figma – a collaboration tool we use to share and talk about the project's wireframes, interactive prototypes and their design. It's also great during brainstorming sessions and building design systems. All in all, Figma is extremely helpful in the design process.
What is a design system, and do you really need one? – check out this article and learn all about design systems.
What's great is that sometimes after our workshop, the client likes some of the tools to implement them in their company. It shows how helpful and useful they are. Thanks to them, we can plan, design, chat and make presentations from anywhere in the world.
Key Takeaways
Building a custom digital product, whether it's a mobile application or website, is never a risk-free idea. But with a product discovery workshop, you can manage it. Carrying out a workshop during the discovery phase is a great way to start digital product development. It'll help to deliver the best solution and avoid unnecessary costs. What's more, you get to successfully develop a product that has a chance to do well on the market, which, in turn, influences the overall company's reputation.
At Gorrion, we want to use all of our project experience to ensure that you'll get the solution that meets your needs. Through our workshops and the delivered materials, we can make it happen. All of it helps us to create a beautiful product that provides a seamless customer experience.
Workshops are great for building trust since they provide a space for all the participants to generate and put forward their ideas, give feedback on them and ultimately, hear each other's opinions and insights. This, in turn, lays out the groundwork for a long-lasting collaboration.
Editor's note: We've originally published this post in August 2020 and updated it for comprehensiveness.